Writers needed for PROJECT: EVERLASTING MOON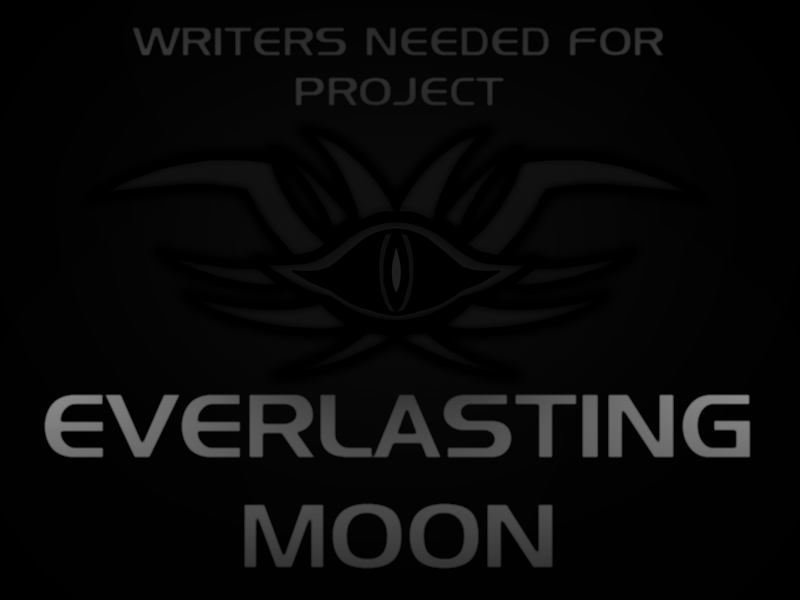 NOTE: Be prepared to showcase some examples of previous work when it comes to writing. I will need to see if you are able to pull off a good a fluid document. This can be in the form of a PDF, Word or Celtx Document.
To those of you on this site that don't know who I fully am, my name is Angus McCallum but my online alias on this site and many others is King Sangos. I am an uprising amateur Machinima Director who has been working on the medium (specifically the Halo medium) of Machinima for around 3 years now. My most notable work in terms of Machinima would have to be my series on Halo: Reach, Wings of Equilibria. Set on a fractured timeline of the Halo Universe, Wings of Equilibria focuses its story on an uncharted planet set 200 years after 2553 that holds the descendants of the evacuees of the Inner Colony Planet, Tribute and their Covenant pursuers. I am not here to talk about Wings of Equilibria though. I'm here to talk about a brand-new project.
For almost a year now, I have been mind-mapping and storyboarding a unique backdropping for a new series that I am creating for the game to-be released, Halo 4. Now with my skills as a Director ever-improving over the coming months and my passion to explore brand new territories, I've set my sights on this brand-new project which I hope will be greater then any of my other projects (Perhaps even HEARTS OF DUSK, my upcoming Halo: Reach Movie).
Now why do I need a writer exactly for this project if I am praised for my choice of dialogue in my Machinima videos? 
To be perfectly honest, I have trouble when it comes to wording sentences out correctly. I can leave that be for a series like Wings of Equilibria but I want to set a new standard for myself and this new project. I want to make sure that the dialogue is both clear and entertaining to listen to and the story to be filled with Action-packed sequences, Amazing world locations and moments of pure tragedy. I alone can try to execute these feelings into motion but I don't want to try. I want to make it clear-cut. That's why I am hiring writers to help assist in terms of help writing this project. I also want them to feel comfortable about the back-drop of this new story.
What are some of the requirements I need to help?
I'll put it into a simple batch so it can be easy to understand for anyone who is reading this thread.
Required Attributes
- You must have some examples of your previous scripting work ready to send off to me. I want to make sure that you can write well.
- Must have prior experience in writing be it Academic or Casual. So long as you are comfortable of helping to write in Celtx or Word. The script will be made in Celtx.
- It is advised to be open to discussions with me. I will be hosting Skype Calls to discuss the different situations and plans for the story, lore and characters.
- You must have some understanding of the Halo Lore. Preferably the later events that occur within the books such as Glasslands, Halo Evolutions and The Thursday War. This is ensure that the situation within the story and lore can be adjusted to seem like it would fit within the real Halo timeline.
Desired Attributes
- To have a passion for writing and character development.
- To enjoy watching Machinima and having a fondness for the Halo series.
- To be confident during discussions and upfront about any problems that you see that I don't. Keep in mind that the story I have will remain the same yet I am still open to change.
To send me copies of your work or to simply contact me, reach me through either of these ways.
1.) Skype (fear-the-kantus)
2.) E-Mail (angus.mccallum1@btinternet.com)
3.) Machinination.com (Username: King Sangos - PM)
4.) YouTube (Username: KingSangos - PM)
I want this new project to be big. I want it to inspire, I want it to entertain but most importantly, I want it to be a success. I want to release a Machinima in which pays tribute to Halo Machinima audience demographics while maybe introducing new demographics into the frame. I have faith in this project and that faith can only be truly realised if we can work together on this.
Feel free to send a response or reply if you have anymore questions.